SYDNEY BLUE SOX WITH MAESTRI ON THE MOUND
The Italian pitcher again in Australia.
Welcome Alessandro Maestri!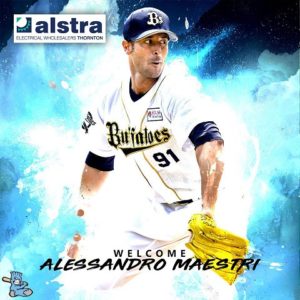 Three time World Baseball Classic Italian pitcher Alessandro Maestri will make his return to the ABL, this time for the Sydney Blue Sox. Maestri in his one season in the ABL posted an ERA of 3.25 and struck out 53 batters.
Maestri has also been a part of the Chicago Cubs organisation, where he was named as a Minor League All-Star, as well as the playing for Nippon League Orix Buffaloes.
Maestri is a great addition to an already strengthened pitching core for the Blue Sox in addition to the recent signing of Shogo Nakashima.
Blue Sox manager Tony Harris comments, "Alessandro has pitched at the highest of all international levels including a very successful career in the NPB for Orix Buffaloes and the KBO. We are really excited to have him as one of our main starting pitchers this year, a tough competitor and a great person that only wants success for Sydney this season."