BIG GAME FOR ALEX MAESTRI
Sox blank Aces to take series opener
Maestri strikes out 13 in six scoreless innings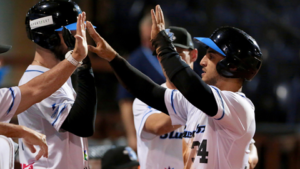 Sydney starter Alex Maestri finished with 13 strikeouts as the Blue Sox stormed to a comfortable 9-0 win over Melbourne in game one of their Brut Australian Baseball League series at Blacktown International Sportspark on Friday night.
The 33-year old was masterful on the mound, giving up just one hit and two walks in six innings and strangling Melbourne (11-6) out of the contest early.
With the bat in hand, it was the in-form Jacob Younis who powered the Blue Sox (11-6) to victory, managing two runs and four RBIs to lift his season average to .388.
After a slow start offensively, Sydney hit the lead in the bottom of the third when they plated two runs.
The first came on a Dwayne Kemp single after Younis singled and stole second.
Soon after Kemp had a run of his own, taking advantage of a wild pitch from Aces' starter Luke Westphal.
The Sox extended their buffer to five runs in the fourth
Another Westphal wild pitch saw 27-year old Max Brennen dash to try steal home and a spectacular diving effort saw him leap over the opposing catcher to score.
Joshua Dean then capitalised off a Younis sacrifice fly to post Sydney's fourth run of the night, prompting Melbourne manager Jon Deeble to replace Westphal with Christian Meister.
It was a tough night on the mound for Westphal, who gave up five runs (four earned) on four hits and six walks in 3 1/3 innings.
Trent D'Antonio scored on a fielding error to give the home side a 5-0 lead after four.
Younis then exploded in the fifth, adding a three-RBI triple which saw Brennan, Dean and D'Antonio score.
He then bagged his second run of the evening off a Kemp sacrifice fly.
Neither side would post any more runs in the following four innings, with the Blue Sox claiming a 9-0 whitewash.
Craig Anderson tossed three scoreless frames in relief for Sydney.
The series continues with a doubleheader from 3.30pm local time tomorrow.