BLUE SOX BLAST WAY TO GAME ONE WIN
Shepherd slam and Maestri gem lift Sydney to victory
Strong start from Alex Maestri.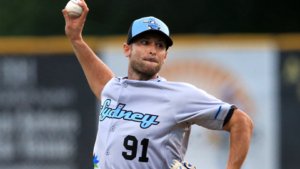 Another strong start from Alex Maestri and a Zac Shepherd grand slam led Sydney to a 9-1 win over Auckland in Brut Australian Baseball League action on Friday afteroon.
The Tuatara (4-8) stuck with the Blue Sox (7-6) for six innings at McLeod Park, but a seven-run seventh capped off by Shepherd's slam put the game beyond reach.
Auckland had ample opportunities, but left the bases loaded three times in a frustrating afternoon for the home side.
The Tuatara were 1-for-14 with runners in scoring position, and were consistently thwarted by Sydney's pitchers.
Maestri lowered his season ERA to 3.38 after another strong start for the Blue Sox.
The Italian native scattered two hits and struck out nine in 5 2/3 innings of work.
Auckland starter Jimmy Boyce struck out five in six solid innings, but the Tuatara bullpen struggled.
Sydney's offence jumped all over relievers Ryo Okumoto and Yuki Harada.
Dwayne Kemp doubled Sydney's early advantage with his second homer in as many games, while Shepherd finished with a team-high five RBI.
Former MLBer John Holdzkom made his season debut for Auckland.
The former Pittsburgh Pirates arm tossed a scoreless eighth inning.
The Tuatara and Sox will be back at it for a doubleheader tomorrow, with the first pitch of game one slated for 12pm NZDT.