CAVS BREAK TROUGH FOR FIRST WIN
Kent anchors victory over previously undefeated Sox
A dominant fifth inning has seen the Canberra Cavalry claim their first win of the 2018/19 Brut Australian Baseball League season, 7-4 against the Sydney Blue Sox at Blacktown International Sportspark.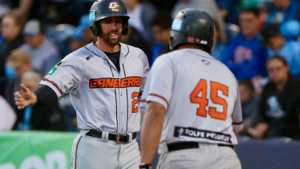 The Blue Sox entered Friday night's game full of confidence on the back of a clinical 4-0 series sweep of Geelong-Korea.
The Cavalry, on the other hand, were looking for their first win of the season after struggling to fire against the Melbourne Aces.
Early signs were positive for Keith Ward's men, who bagged the first run of the night when Craig Massey scored off a Zach Wilson single.
Canberra pitcher Steven Kent restricted Sydney's chances, conceding just one run and two hits from five innings.
South African star Gift Ngoepe suited up for his first game for the Blue Sox and a fly out from the 28-year old saw Jake Levin and Michael Campbell each tag up and advance a base.
Levin would go on to score soon after off a Dwayne Kemp sacrifice fly locked things up.
The game was well and truly in the balance heading into the top of the fifth before a five-run inning saw the Cavs break open the contest.
Massey nabbed his second run of the evening when he capitalised off a David Kandilas single before the Team Australia star scored off a Robbie Perkins base hit.
The most important play of the inning came from Padres prospect Justin Lopez, whose three-RBI double saw Perkins, Cam Warner and Boss Moanaroa score to extend Canberra's lead to five.
Sydney eventually hit back in the bottom of the sixth when Hao-Wei Shen scored.
The Blue Sox reduced the deficit to four when Jacob Younis scored off a Shen single before Trent D'Antonio scored in the bottom of the ninth to give the home fans a glimmer of hope.
But they were unable to draw any closer, with the Cavs holding on for a 7-4 win.
The series will go on the line tomorrow when the two sides meet in a double-header, with the first pitch expected at 3.30pm local time.