SOX MAKE STATEMENT IN BIG WIN
Maestri magic shuts down Bandits offence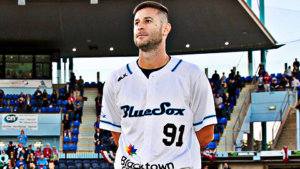 A five-run inning saw the Sydney Blue Sox power to a 11-2 win over the Brisbane Bandits in their Brut Australian Baseball League series opener at Blacktown International Sportspark.
With two outs on the board in the bottom of the fourth, Trent D'Antonio hit a single and appeared destined to be out at first.
But in what was a matter of millimetres, the 33-year old reached first base – and it was those few millimetres that ending up costing Brisbane the ballgame.
After Alex Howe scored off the D'Antonio single, Sydney went on to plate another four runs.
The first two came off a Jacob Younis single, which saw both Michael Campbell and D'Antonio cross home plate.
Younis was later rewarded with a run of his own, scoring off a Dwayne Kemp single. Kemp then scored the final run of the inning, capitalising on a Jack Murphy fly ball.
Younis was devastating at the plate, finishing Thursday night's game with a triple, three runs and two RBIs.
The runs just kept coming, with the Blue Sox adding another three in the sixth.
The first saw Kemp score after a triple to Bandits outfielder Andrew Campbell, whose throwing error allowed the 30-year old to stroll to home plate.
Zac Shepherd then blasted a homer that brought Jack Murphy home with him.
Sydney pitcher Alex Maestri put in another strong effort on the mound, punching out seven and giving up one run from six innings. Relief pitcher Shogo Nakashima closed out the contest nicely with three strikeouts.
It was a mixed night for Brisbane's Ryan Bollinger, striking out five while conceding five runs from 3.2 innings.
Brisbane were the first to open the scoring after Donald Lutz, who had doubled early, scored off a T.J Bennett single.
But the Blue Sox quickly regained ascendancy in the bottom of the first. With the bases loaded, Jack Murphy hit a two-RBI single which allowed Jacob Younis and Dwayne Kemp to reach home plate.
The Bandits finally plated their second run of the night in the seventh when Danny De La Calle scored off a Daniel Nilsson sacrifice fly.
It was a rare highlight in an otherwise tough night for Brisbane, with Sydney cruising to a 11-2 win.
The Bandits will be looking to bounce back tomorrow night when they face the Blue Sox at 7.30pm local time.