BLUE SOX WIN GAME 1 AGAINST PERTH
Sox sneak by Heat in series opener
Big fourth inning erases three-run deficit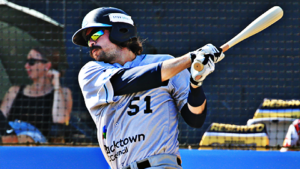 Sydney withstood an early Perth barrage to hold their nerve and take a hard-fought 7-4 win in Brut Australian Baseball League action.
The Heat jumped all over the Blue Sox in the first, with veteran Tim Kennelly's leadoff homer immediately giving Perth the momentum. Not content with one, the Heat strung together five hits from their first six plate appearances, racing to a three-run lead in the blink of an eye.
Behind another strong start from Alessandro Maestri, Sydney stayed within touching distance and took advantage of key mistakes in the fourth. Three singles, a wild pitch and a hit-by-pitch saw the Blue Sox plate five runs, as they matched it with the best team in the league.
After a shaky first two innings, Maestri retired 12 of the next 14 hitters he faced, as the Italian native became the first man to record 50 strikeouts this season.
Sydney chased Heat starter Ryan Flores in the five-run inning, as veteran utility arm Dan Schmidt got the nod as he so often does in long-relief situations. Schmidt struck out four and kept Perth in the contest, as he only surrendered one run in four innings.
Dutchman Dwayne Kemp lifted his average to .341 on the season with two hits, while catcher Jack Murphy went 2-for-5 with a double (his first of the season), and two RBI for Sydney.
Blue Sox Reliever Ty'Relle Harris continues to mount his case for reliever of the year honours, logging two scoreless innings, and keeping his ERA at 0.00 after nine appearances.
Pete Kozma was the only Heater to record multiple hits.
The two divisional leaders meet in a doubleheader tomorrow, with game one slated for 4pm local.