SYDNEY OVERCOME GK ON OPENING NIGHT
Blue Sox score eight unanswered runs to down GK
Great debut for Alex Maestri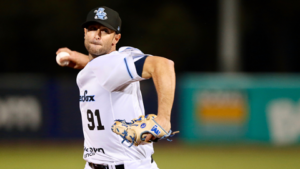 Eight unanswered runs paved the way for Sydney to record an impressive 8-1 win over Geelong-Korea in the Brut Australian Baseball League at Blacktown International Sportspark.
There was plenty of solid pitching early in Thursday night's game before the Sox scored four runs in the bottom of the fourth to take control of the contest.
With the bases loaded, the first two runs came off a single from Jake Levin.
The 30-year old hit a ground ball, which was deflected by Geelong-Korea second baseman Han-Gyeol Cho, allowing Jack Murphy and Trent D'Antonio to reach home.
Only moments later, Levin was rewarded with a run of his own on an error.
GK shortstop Joo-Ho Lee's throwing error on a Michael Campbell groundball allowed both Levin and Zac Shepherd score and extend the lead to three runs.
Geelong-Korea opened the scoring in the top of the second on an RBI-double from Yong-Wook Lee which allowed Seung-Han Kim to score the side's first official run in the ABL.
Sydner starter Alex Maestri was otherwise unblemished through five innings, striking out 11 and giving up just four hits and a couple of walks.
The Sox overcame a slow start with a Levin-inspired fourth inning, before adding another two runs in the fifth.
The first came after Levin was walked with the bases full, giving Shen Hao-wei a free pass to the home.
Soon after D'Antonio bagged his second run of the night off an Alex Howe ground ball, allowing Sydney to take a 6-1 lead into the top of the sixth.
Having already scored a run, Shen added an RBI to his personal tally when he tripled off a fly ball that saw Jacob Younis score.
And Shen later pocketed his second run of the night off a Murphy ground ball to extend Sydney's advantage to seven at the top of the seventh.
Geelong-Korea failed to register anymore runs and punched out 21 times as the Blue Sox celebrated in style with a 8-1 victory on Opening Night.
The series continues tomorrow night at 7pm local time as Geelong-Korea search for their first win in the ABL.