TUATARA KEEP SOX COLD IN WET OPENER
Auckland send Sydney crashing to fifth-straight loss
A big game for Alex Maestri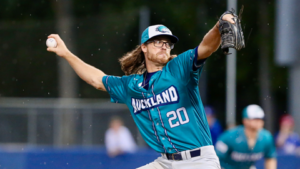 A five-run eighth helped Auckland heap more pressure on Sydney, claiming game one of their Brut Australian Baseball League series at Blacktown International Sportspark on Thursday night.
The Tuatara plated the first run of the night in the fifth, following a two-and-a-half hour rain delay, and extended its advantage in the eighth to seal a 6-0 victory.
Having loaded the bases early with no outs, Auckland quickly added two runs when Luke Hansen and Eric Jenkins scored off a Nick Tanielu single.
Shortly after the bases were full again and this time Tanielu and Max Brown bagged runs, courtesy of a Daniel Lamb-Hunt single.
The Blue Sox were under plenty of pressure heading into Thursday night's clash after being swept for the first time this season against Canberra in round eight.
And following their game one loss, Sydney surrendered top spot in the North-East Division to the Cavalry.
It was a frustrating night for both sides, who were only able to play out 1 2/3 innings before rain delayed the contest for more than two hours.
Eventually play resumed and a pitching duel emerged, with both Alex Maestri and Stephen Swagerty impressing early.
Despite the end result, Maestri won the battle, punching out 10 and giving up just one run from seven innings on the mound. But Swagerty still put up a very strong effort, striking out three and giving up four walks from five scoreless innings.
The Tuatara finally broke the deadlock in the top of the fifth when Daniel Lamb-Hunt scored the first run of the night. The 31-year old singled early in the inning before stealing third off a Luke Hansen hit.
He then reached home plate courtesy of an Eric Jenkins single.
The Blue Sox had a massive opportunity to hit back in the bottom of the seventh when they loaded the bases. But with Zac Shepherd already out, a double play brought a frustrating end to a promising inning.
It was Auckland's fourth double play of the night, with Sydney struggling to take advantage of limited opportunities.
And it proved costly as Auckland hit five runs in the eighth to skip away with the win.
Desperate to snap a five-game losing streak, Sydney will be looking to bounce back at 7.30pm local time on Friday.