MAESTRI AND FANTI IN AUSSIE
New season for the italian pitchers.
Team Italy's Alessandro Maestri and Nick Fanti lead Sydney Blue Sox to back-to-back wins in Australian Baseball League
The undefeated Sydney Blue Sox (4-0) kicked off the 2018-2019 season Italian style when 33-year-old starting pitcher Alessandro Maestri earned the win by throwing five innings, striking out 11 hitters, and limiting Geelong-Korea to one earned run in the Australian Baseball League (ABL)home opener at Blacktown International Sportspark on November 15, 2018. Sydney Blue Soxmanager Tony Harris called on Team Italy's Nick Fanti to start the following game on November 16. The 21-year-old New York-born lefty, who made hisAzzurri debut in the 2017 World Baseball Classic, pitched 3.1 innings and allowed one unearned run while striking out three Geelong-Korea batters and leaving the game with a commanding Sydney 4-1 lead.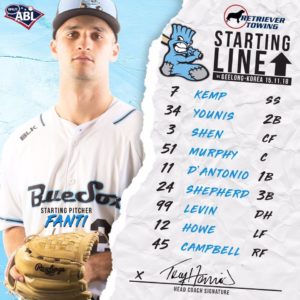 Sydney Blue Sox skipper Tony Harris, who coached in the minor leagues from 1992-2006 for the Los Angeles Dodgers and served as an international scout for the New York Mets and Pittsburgh Pirates, knows the Team Italy dynamic duo ofAlessandro Maestri and Nick Fantican help his team win. He said, "Alessandro has pitched at the highest of all international levels including a very successful career in the Nippon Professional Baseball Organization for Orix Buffaloes and the Korea Baseball Organization. We are really excited to have him as one of our main starting pitchers this year. He is a tough competitor and a great person that only wants success for Sydney. Nick is a quality and highly-regarded left-handed starter from the Philadelphia Phillies organization. He will be a key starting pitcher for us this season."
Team Italy followers remember Nick Fanti's scoreless inning of relief against Puerto Rico in the2017 World Baseball Classic when he faced major leaguers Mike Aviles, Enrique Hernandez,Angel Pagan, Francisco Lindor and T.J. Rivera. He proved on the global stage that he has the mental makeup to compete at the game's highest level. Prior to his untimely death last year, two-time Cy Young Award-winner Roy Halladayused to help young pitchers like Nick Fanti at Phillies Spring Training camp in Clearwater, Florida. Nick Fanticommented, "I just feel privileged to have worked with him. I recall one long conversation with him about mental toughness and how to handle my time off the field. I am just so happy to have crossed paths with such a professional."
A 31st-round pick by the Philadelphia Phillies out of the 2005 MLB Amateur Draft, Nick Fanti completed his fourth season in the Phillies minor league system with Single-A Advanced Clearwater Threshers before heading down under to Sydney to join fellowTeam Italy pitcher and mentorAlessandro Maestri, who was recruited to pitch in Australia the first time for the Brisbane Bandits during the 2011-12 ABL season. As the workhorse of the Brisbane Bandits pitching staff, he led his team in wins (4) and proved to be one of the best pitchers in the league. Alessandro Maestri finished third in the ABL in innings pitched (63.2) and in strikeouts (53), fourth in the ABL in WHIP (1.16) and sixth in the ABL in ERA (3.25). In round eight of the regular season, he earned the ABL Pitcher of the Week award after pitching a stellar complete game two-hitter against the Canberra Cavalry and was later crowned with the prestigious ABL Fan Choiceaward.
Now the first-place Sydney Blue Sox have the necessary one-two Italian punch of Alessandro Maestri and Nick Fanti in the starting rotation to make a run for the ABL Championship title. Let's wish both pitchers the best of luck during the 2018-2019 ABL season. Follow all the action on ABL TV by clicking HERE.
Forza #Italia!
#LetsMakeItHappen